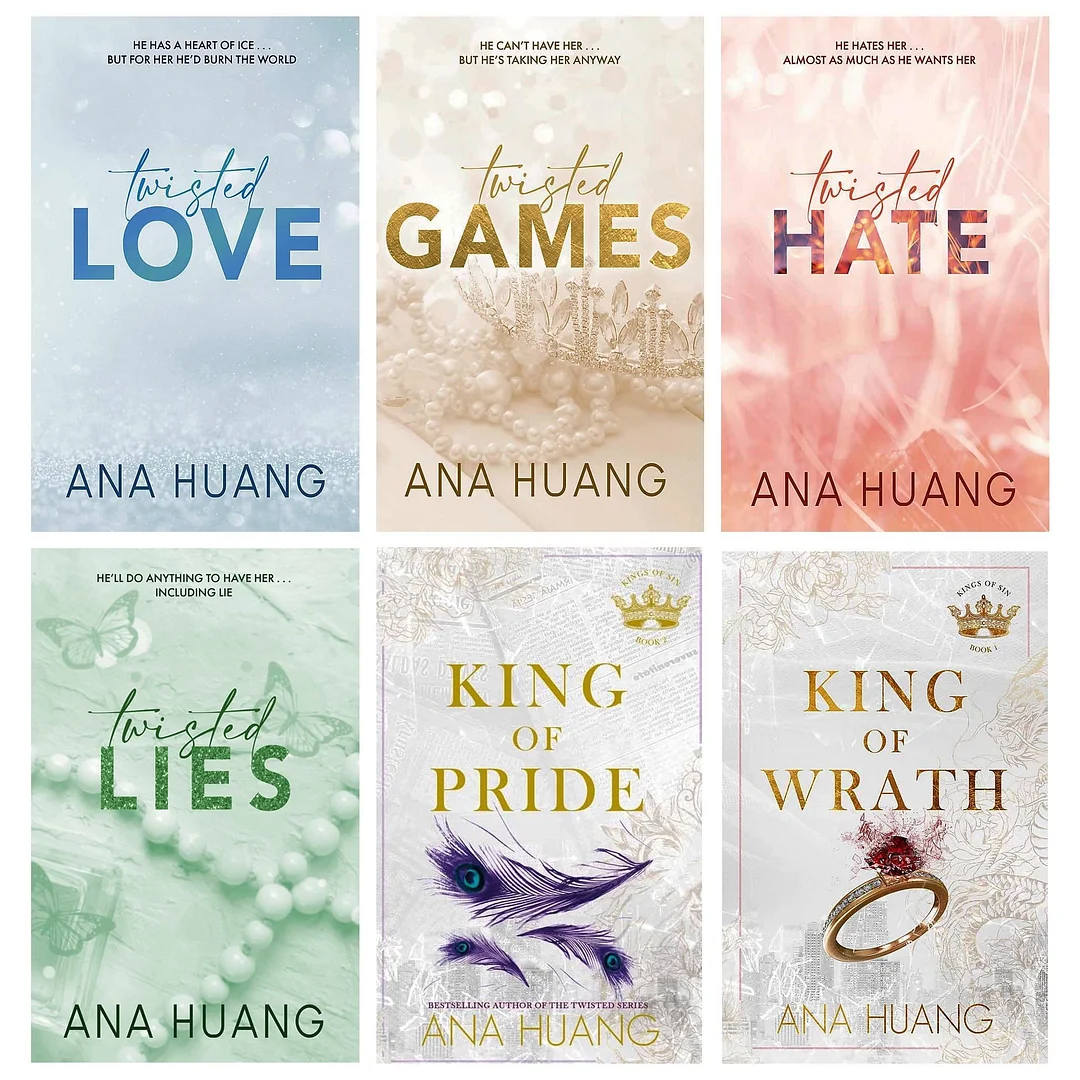 Titles in This Set:

Twisted Series:

Twisted Love

Twisted Games
Twisted Hate
Twisted Lies
King Of Sin Series
King of Wrath

King of Pride
From the Publisher:
Description:
Twisted Love
Alex Volkov is a devil blessed with the face of an angel and cursed with a past he can't escape. 
Driven by a tragedy that has haunted him for most of his life, his ruthless pursuits for success and vengeance leave little room for matters of the heart.
But when he's forced to look after his best friend's sister, he starts to feel something in his chest. A crack. A melt. A fire that could end his world as he knew it. He has a heart made of ice…but for her, he'd burn the whole world. 
***
Ava Chen is a free spirit trapped by nightmares of a childhood she can't remember.
But despite her broken past, she's never stopped seeing the beauty in the world . . . including the heart beneath the icy exterior of a man she shouldn't want.
Her brother's best friend. Her neighbour. Her saviour and her downfall.
Theirs is a love that was never supposed to happen - but when it does, it unleashes secrets that could destroy them both . . . and everything they hold dear.
Twisted Games
Stoic, broody, and arrogant, elite bodyguard Rhys Larsen has two rules: protect his clients at all costs and do not become emotionally involved. Ever.
He has never once been tempted to break those rules . . . until her.
Bridget von Ascheberg. A princess with a stubborn streak that matches his own and a hidden fire that reduces his rules to ash. She's nothing he expected and everything he never knew he needed.
Day by day, inch by inch, she breaks down his defences until he's faced with a truth he can no longer deny: he swore an oath to protect her, but all he wants is to ruin her. Take her.
Because she's his. His princess. His forbidden fruit. His every depraved fantasy.
***
Regal, strong-willed, and bound by the chains of duty, Princess Bridget dreams of the freedom to live and love as she chooses.
But when her brother abdicates, she's suddenly faced with the prospect of a loveless, politically expedient marriage and a throne she never wanted.
And as she navigates the intricacies - and treacheries - of her new role, she must also hide her desire for a man she can't have.
Her bodyguard. Her protector. Her ultimate ruin.
Unexpected and forbidden, theirs is a love that could destroy a kingdom . . . and doom them both.
Twisted Hate
Gorgeous, cocky, and fast on his way to becoming a hotshot doctor, Josh Chen has never met a woman he couldn't charm - except for Jules f**king Ambrose.
The beautiful redhead has been a thorn in his side since they met, but she also consumes his thoughts in a way no woman ever has.
When their animosity explodes into one unforgettable night, he proposes a solution that'll get her out of his system once and for all: an enemies-with-benefits arrangement with simple rules.
No jealousy. No strings attached. And absolutely no falling in love.

***
Outgoing and ambitious, Jules Ambrose is a former party girl who's focused on one thing: passing the attorney's bar exam.
The last thing she needs is to get involved with a doctor who puts the SUFFER in insufferable . . . no matter how good-looking he is.
But the more she gets to know him, the more she realizes there's more than meets the eye to the man she's hated for so long.
Her best friend's brother. Her nemesis. And her only salvation.
Twisted Lies
Charming, deadly, and smart enough to hide it, Christian Harper is a monster dressed in the perfectly tailored suits of a gentleman.
He has little use for morals and even less use for love, but he can't deny the strange pull he feels toward the woman living just one floor below him.
She's the object of his darkest desires, the only puzzle he can't solve. And when the opportunity to get closer to her arises, he breaks his own rules to offer her a deal she can't refuse.
Every monster has its weakness. She's his.
His obsession. His addiction. His only exception.

King of wrath
She's the wife he never wanted . . . and the weakness he never saw coming.

Ruthless. Meticulous. Arrogant. Dante Russo thrives on control, both personally and professionally.

The billionaire CEO never planned to marry - until the threat of blackmail forces him into an engagement with a woman he barely knows: Vivian Lau, jewellery heiress and daughter of his newest enemy.

It doesn't matter how beautiful or charming she is. He'll do everything in his power to destroy the evidence and their betrothal.

There's only one problem: now that he has her . . . he can't bring himself to let her go.

Elegant. Ambitious. Well-mannered. Vivian Lau is the perfect daughter and her family's ticket into the highest echelons of high society.

Marrying a blue-blooded Russo means opening doors that would otherwise remain closed to her new-money family.

While the rude, elusive Dante isn't her idea of a dream partner, she agrees to their arranged marriage out of duty.

Craving his touch was never part of the plan.

Neither was the worst thing she could possibly do: fall in love with her future husband.

King of pride
She's his opposite in every way . . . and the greatest temptation he's ever known.

Reserved, controlled, and proper to a fault, Kai Young has neither the time nor inclination for chaos - and Isabella, with her purple hair and inappropriate jokes, is chaos personified.

With a crucial CEO vote looming and a media empire at stake, the billionaire heir can't afford the distraction she brings.

Isabella is everything he shouldn't want, but with every look and every touch, he's tempted to break all his rules . . . and claim her as his own.

Bold, impulsive, and full of life, Isabella Valencia has never met a party she doesn't like or a man she couldn't charm . . . except for Kai Young.

It shouldn't matter. He's not her type - the man translates classics into Latin for fun, and his membership at the exclusive club where she bartends means he's strictly off limits.

But she can't deny that, beneath his cool exterior, is a man who could make her melt with just a touch.

No matter how hard they try, they can't resist giving into their forbidden desires.
Even if it costs them everything.