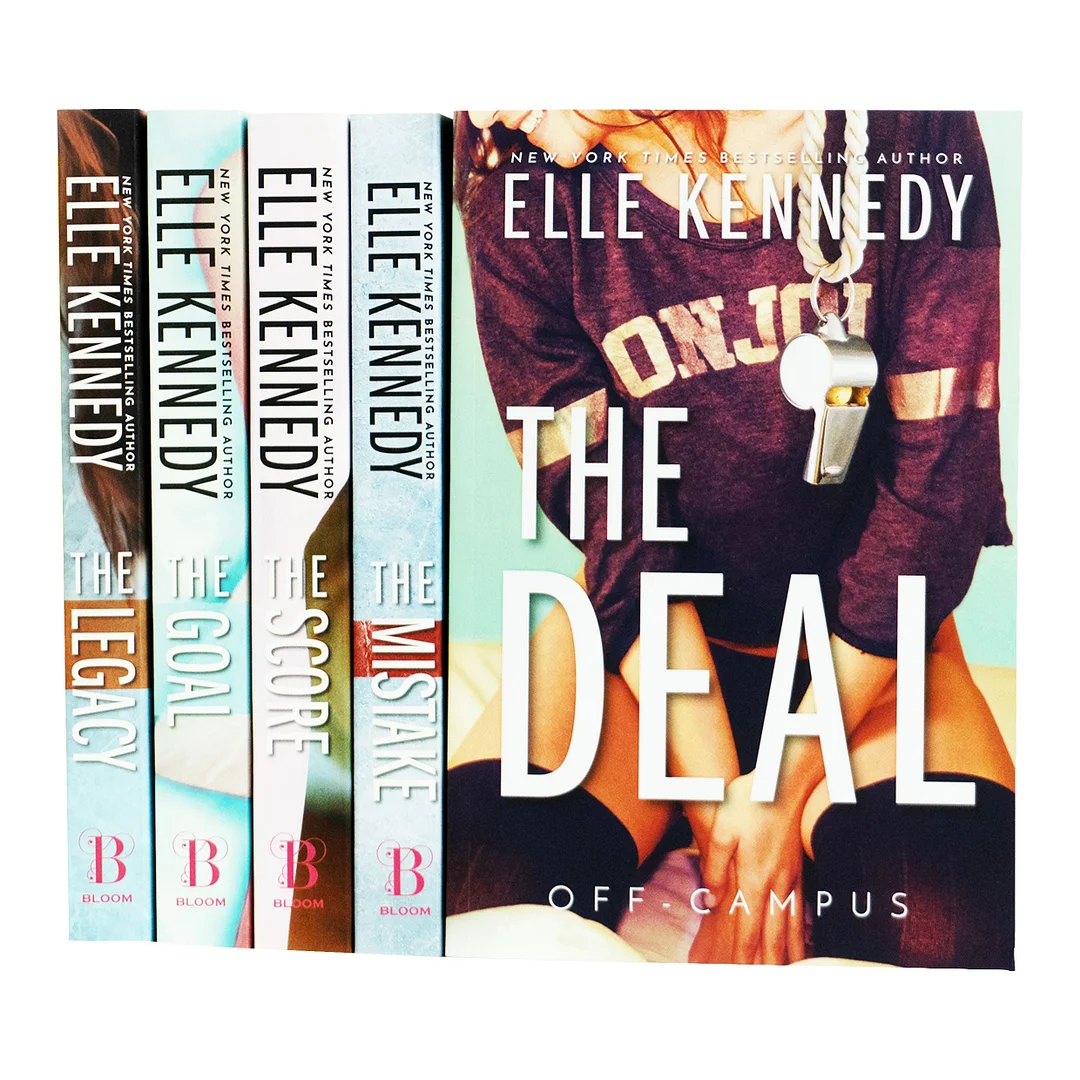 ${data.index + 1}/5
The Off-Campus Series by Elle Kennedy: Captivating College Romance at Its Finest
Step into the exhilarating world of college romance with the Off-Campus Series by Elle Kennedy. A captivating blend of sizzling chemistry, unforgettable characters, and heartfelt storytelling, this beloved series takes readers on an unputdownable journey through the lives of college athletes and the women who capture their hearts. With six enthralling novels that explore themes of friendship, love, growth, and self-discovery, the Off-Campus Series is a must-read for fans of contemporary romance and those looking to escape into a world filled with passion, humour, and genuine emotion.
In the first instalment of the Off-Campus Series, The Deal, Elle Kennedy introduces readers to Hannah Wells, a talented and determined musician, and Garrett Graham, the cocky and irresistible captain of the hockey team. Hannah is focused on her studies, but when she needs help in a class, Garrett offers her an intriguing proposition. They strike a deal: she tutors him, and he helps her win the heart of her long-time crush. As they spend more time together, their connection deepens, and they discover that they have more in common than they ever expected. Will their arrangement lead to something more meaningful than just a deal?
In The Mistake, Elle Kennedy takes readers on an emotional rollercoaster with John Logan, a charming womaniser, and Grace Ivers, a smart and independent woman. After a night of mistaken identity, Logan finds himself infatuated with a girl who is not his usual type. But when he discovers her true identity, he realises he may have ruined his chances for a real relationship. As they navigate their complicated feelings and face unexpected obstacles, Logan and Grace must confront their fears and find the strength to fight for what they truly want. Can they turn their mistake into a second chance at love?
The Score delves into the intense and competitive world of hockey, where Dean Di Laurentis, a player known for his playboy reputation, meets Allie Hayes, a strong-willed and determined woman. After a passionate one-night stand, they both agree to keep their relationship casual. But as they spend more time together, lines become blurred, and they realise that their connection runs deeper than either expected. With Dean's painful past and Allie's fear of commitment, they must confront their personal demons and fight for their love amidst the challenges that threaten to tear them apart. Will they find a way to overcome their differences and score the ultimate victory—true love?
The Goal introduces readers to Tucker "The Hunter" McCloud and Sabrina James, two polar opposites with undeniable chemistry. Sabrina dreams of attending law school, while Tucker struggles with the weight of his past mistakes. A surprise pregnancy forces them to face their fears and make life-altering decisions. As they navigate the challenges of parenthood, pursue their dreams, and discover unexpected truths about themselves, Tucker and Sabrina must learn to trust each other and themselves. With their futures hanging in the balance, will they find the courage to embrace a new goal—a future together?
The Legacy is the final instalment of the Off-Campus book series. Four Stories. Four Couples. Life after Graduation. The final book follows all four couples in their life after graduation. As it turns out, falling in love was the easy part, it's growing up that's a whole lot harder. 
The Off-Campus Series by Elle Kennedy is an exceptional collection of college romance novels that will sweep readers off their feet. With its dynamic characters, engaging plotlines, and passionate love stories, this series is a testament to Elle Kennedy's talent for crafting addictive and heartfelt contemporary romances. Whether you're a fan of sports, coming-of-age tales, or simply crave a well-written and steamy love story, the Off-Campus Series is a must-read. Get ready to fall head over heels for these captivating characters as they navigate the complexities of college life, friendships, and the transformative power of love.
Title in This Set:
The Deal
The Mistake
The Score
The Goal
The Legacy
Description from the Publisher:
The Deal
She's about to make a deal with the college bad boy...
Hannah Wells has finally found someone who turns her on. But while she might be confident in every other area of her life, she's carting around a full set of baggage when it comes to sex and seduction. If she wants to get her crush's attention, she'll have to step out of her comfort zone and make him take notice...even if it means tutoring the annoying, childish, cocky captain of the hockey team in exchange for a pretend date.
...and it's going to be oh so good
All Garrett Graham has ever wanted is to play professional hockey after graduation, but his plummeting GPA is threatening everything he's worked so hard for. If helping a sarcastic brunette make another guy jealous will help him secure his position on the team, he's all for it. But when one unexpected kiss leads to the wildest sex of both their lives, it doesn't take long for Garrett to realize that pretend isn't going to cut it. Now he just has to convince Hannah that the man she wants looks a lot like him.
The Mistake
He's a player in more ways than one...
College junior John Logan can get any girl he wants. For this hockey star, life is a parade of parties and hook-ups, but behind his killer grins and easygoing charm, he hides growing despair about the dead-end road he'll be forced to walk after graduation. A sexy encounter with freshman Grace Ivers is just the distraction he needs, but when a thoughtless mistake pushes her away, Logan plans to spend his final year proving to her that he's worth a second chance.
Now he's going to need to up his game...
After a less-than-stellar freshman year, Grace is back at Briar University, older, wiser, and so over the arrogant hockey player she nearly handed her V-card to. She's not a charity case, and she's not the quiet butterfly she was when they first hooked up. If Logan expects her to roll over and beg like all his other puck bunnies, he can think again. He wants her back? He'll have to work for it. This time around, she'll be the one in the driver's seat...and she plans on driving him wild.
The Score
He knows how to score, on and off the ice...
Allie Hayes is in crisis mode. With graduation looming, she still doesn't have the first clue about what she's going to do after college. To make matters worse, she's nursing a broken heart thanks to the end of her longtime relationship. Wild rebound sex is definitely not the solution to her problems, but gorgeous hockey star Dean Di Laurentis is impossible to resist. Just once, though, because even if her future is uncertain, it sure as heck won't include the king of one-night stands.
It'll take more than flashy moves to win her over...
Dean always gets what he wants. Girls, grades, girls, recognition, girls...he's a ladies man, all right, and he's yet to meet a woman who's immune to his charms. Until Allie. For one night, the feisty blonde rocked his entire world-and now she wants to be friends? Nope. It's not over until he says it's over. Dean is in full-on pursuit, but when life-rocking changes strike, he starts to wonder if maybe it's time to stop focusing on scoring...and shoot for love.
The Goal
She's good at achieving her goals...
College senior Sabrina James has her whole future planned out: graduate from college, kick butt in law school and land a high-paying job at a cutthroat firm. Her path to escaping her shameful past certainly doesn't include a gorgeous hockey player who believes in love at first sight. One night of sizzling heat and surprising tenderness is all she's willing to give John Tucker, but sometimes, one night is all it takes for your entire life to change.
But the game just got a whole lot more complicated...
Tucker believes being a team player is as important as being the star. On the ice, he's fine staying out of the spotlight, but when it comes to becoming a daddy at the age of twenty-two, he refuses to be a bench warmer. It doesn't hurt that the soon-to-be mother of his child is beautiful, whip-smart, and keeps him on his toes. The problem is, Sabrina's heart is locked up tight, and the fiery brunette is too stubborn to accept his help. If he wants a life with the woman of his dreams, he'll have to convince her that some goals can only be made with an assist.
The Legacy
Four stories. Four couples. Three years of real life after graduation…
A wedding. A proposal. An elopement. And a surprise pregnancy.
Life after college for Garrett and Hannah, Logan and Grace, Dean and Allie, and Tucker and Sabrina, isn't quite what they imagined it would be. Sure, they have each other, but they also have real-life problems that four years at Briar U didn't exactly prepare them for. And it turns out, for these four couples, love is the easy part. Growing up is a whole lot harder.