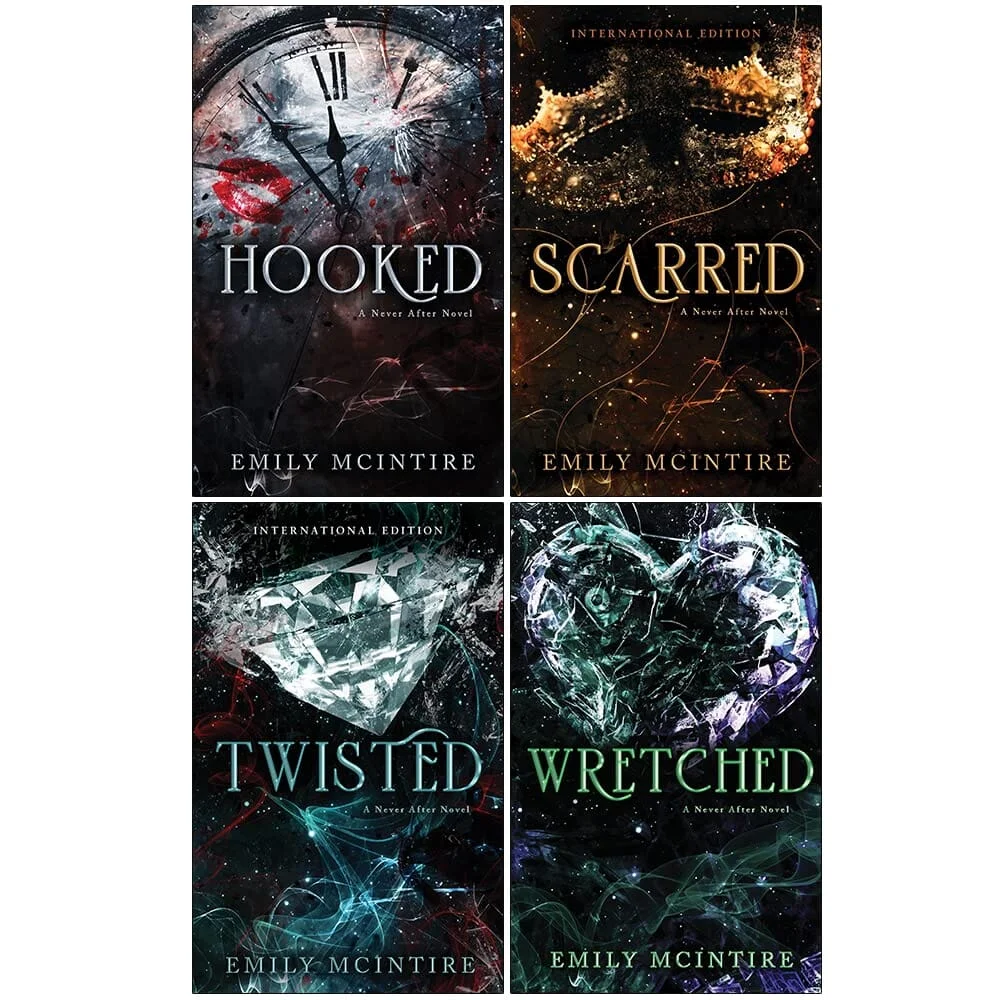 Titles In The Set:

1. Hooked
2. Scarred
3. Wretched
4. Twisted

Description:

Hooked
He wants revenge, but he wants her more...

James has always had one agenda: destroy his enemy, Peter Michaels. When Peter's twenty-year-old daughter Wendy shows up in James's bar, he sees his way in. Seduce the girl and use her for his revenge. It's the perfect plan, until things in James's organization begin to crumble. Suddenly, he has to find the traitor in his midst, and his plan for revenge gets murkier as James starts to see Wendy as more than just a pawn in his game.

Wendy has been cloistered away most of her life by her wealthy cold father, but a spontaneous night out with friends turns into an intense and addictive love affair with the dark and brooding James. As much as she knows James is dangerous, Wendy can't seem to shake her desire for him. But as their relationship grows more heated and she learns more about the world he moves in, she finds herself unsure if she's falling for the man known as James or the monster known as Hook.

Scarred
She doesn't belong to him...she belongs to the crown.

Prince Tristan Faasa was never destined for the throne. That was always his brother, Michael. The same brother responsible for both Tristan's tormented childhood and the scar that mars his face. When their father dies, Michael is set to assume the throne, and Tristan is set to steal it. The leader of a secret rebellion, Tristan will stop at nothing to end his brother's reign. But when Michael's new betrothed, Lady Sara Beatreaux arrives, Tristan finds himself in the middle of a new kind of war. The kind that begs the question of what's more important, the crown or the woman about to wear it.

Sara has one plan. Marry the King and eradicate the Faasa line, even at the risk of her own peril. But she never expects the Scarred Prince. He's dangerous. Forbidden. And one of the men she's been sent to kill. But the line between hatred and passion has never seemed so thin, and as secrets come to light, Sara grows unsure of whom she can trust-torn between vengeance and the villain she was never supposed to love.

Wretched
A woman can be great, and terrible too.

Evelina Westerly has always been the bad guy. As the brains, brawn, and botanist behind her family's drug empire, she's her father's ruthless secret weapon. With her days divided between perfecting her greenhouse, seeking revenge for her sister's murder, and putting a gun to the head of anyone in her way, Evelina doesn't have time for anything else. Especially not for love. After a one-night stand with a gorgeous man at a nightclub, she's sated her urges and is back to her criminal ways. That is, until that same man shows up as the new Westerly lackey...under a totally different name.

But Nicholas Woodsworth's real secret is much more dangerous than an alias. He's an undercover DEA agent, and he's hell-bent on destroying the drug trade that devastated his family. When he realizes the youngest daughter of the Westerly empire is the same woman he's been fantasizing about since that night at the club, attraction wars violently with disgust. Evelina embodies everything he's against, and he's been sent here to be her downfall. Yet the more they learn about the darkness in each other's hearts, the more alike they seem, and when hatred turns to something more, Nicholas will have to decide whether he can love a wretched woman, even if it means bringing both of their lives to ruin.

Twisted
She's his diamond in the rough. He's her worst nightmare.

Yasmin Karam, daughter to one of the richest men in the world, has never known strife. So, when her beloved father falls ill, she's determined to make his final days his happiest. His last wish? To see her married to a man of his choosing. Except Yasmin's heart already belongs to someone else. A servant. A street rat. A man her father would never consider worthy. Stuck between a rock and a hard place, Yasmin strikes a desperate deal with her father's right-hand man, Julian, not realizing he has his own twisted agenda.

Julian Faraci has one goal: become the most powerful man in the world. He's built a future from broken bones and faded bruises, never caring who he hurt along the way. But when his mentor falls ill, he finds himself on the verge of losing everything, and he'll stop at nothing to inherit what is rightfully his. Even if it means forcing a woman he can't stand into marriage.

Yasmin is a brat who speaks out of turn, and he's the villain of her story. But he decides she'll be his-no matter what it takes to convince her.