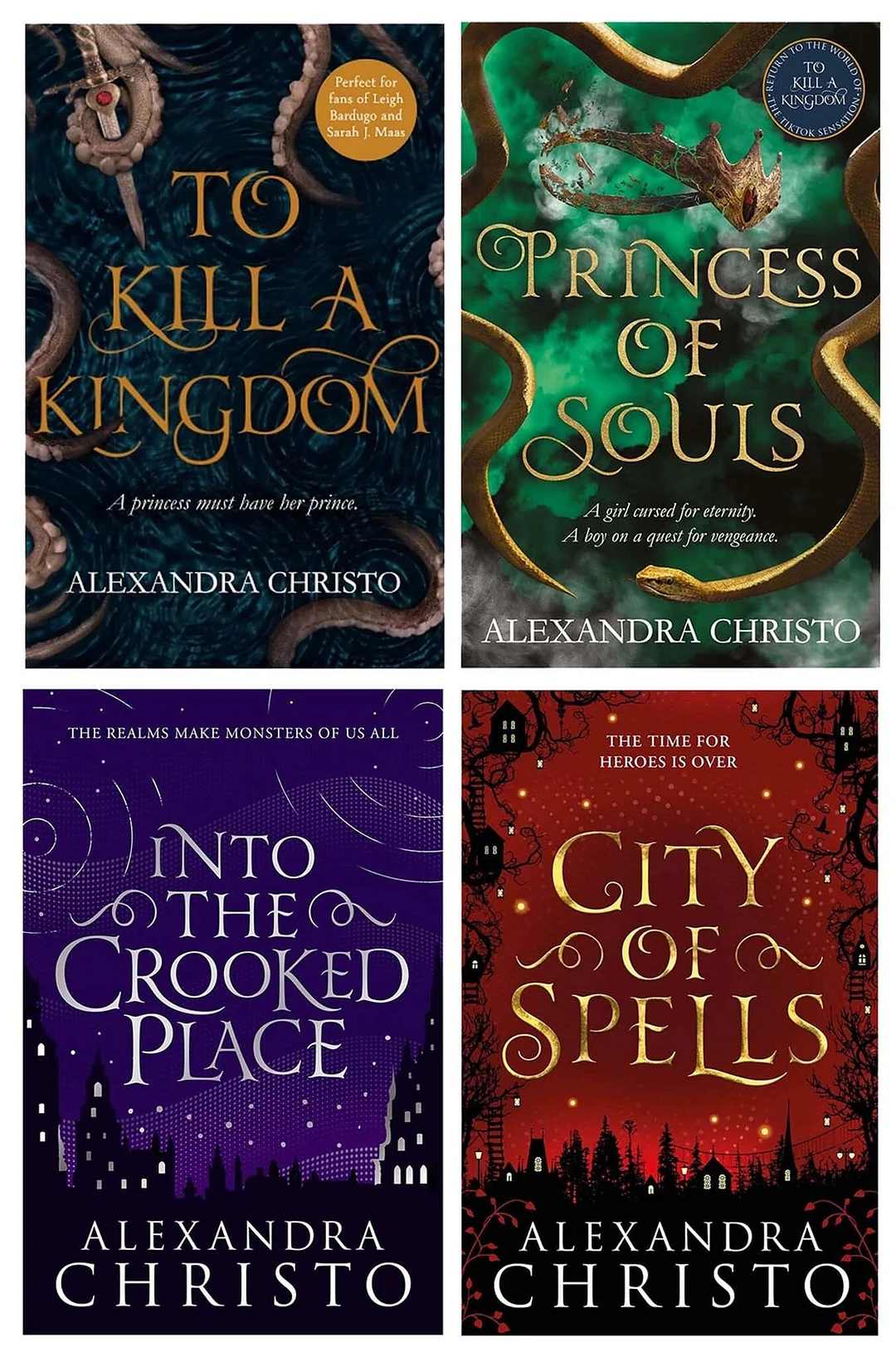 Title in This Set:

Into the Crooked Place Series:
1. Into The Crooked Place
2. City of Spells

Hundred Kingdoms Series:
3. To Kill a Kingdom
4. Princess of Souls

Description:

Into The Crooked Place
Desperate times call for desperate magic . . .

Magic rules the city of Creije Capital and Tavia Syn knows just how many tricks she needs up her sleeve to survive. Selling dark magic on the streets for her kingpin, she keeps clear of other crooks, counting the days until her debt is paid and she can flee her criminal life.

But then, one day, with her freedom in sight, Tavia uncovers a sinister plot that threatens to destroy the realm she calls home. Desperate to put an end to her kingpin's plan, Tavia forms an unlikely alliance with three crooks even more deadly than her:

Wesley, the kingpin's prodigy and most renewed criminal in the realm

Karam, an underground fighter with a penchant for killing first and forgetting to ask questions

And Saxony, a Crafter in hiding who will stop at nothing to avenge her family

With the reluctant saviours assembled, they embark on a quest to put an end to the dark magic before it's too late. But even if they can take down the kingpin and save the realm, the one thing they can't do is trust each other.

City of Spells
Threats are like promises. Don't make ones you can't keep.

With Wesley as their prisoner, Dante Ashwood and Zekia tear through the streets of Uskhanya, conquering cities at a time with their army of Crafters and enthralled citizens. As Wesley realises the truth of his power and Zekia tries to lure him to darkness, he must fight against the deadly magic that invades his mind and find a way back to his friends before it's too late.

Meanwhile, as the cities fall, Tavia, Saxony and Karam prepare for a fight unlike any other. With tensions running high and battles at every turn, they must unite an army of Crafters, crooks and even politicians if they truly want to take down Ashwood once and for all.

But things are never simple: with dark magic circling and old secrets clawing from the grave, the unlikely friends have to decide just how far they'll go to do what's right and if they're willing to sacrifice everything to win - including each other.

To Kill a Kingdom
Princess Lira is siren royalty and the most lethal of them all. With the hearts of seventeen princes in her collection, she is revered across the sea. Until a twist of fate forces her to kill one of her own. To punish her daughter, the Sea Queen transforms Lira into the one thing they loathe most - a human. Robbed of her song, Lira has until the winter solstice to deliver Prince Elian's heart to the Sea Queen or remain a human forever.

The ocean is the only place Prince Elian calls home, even though he is heir to the most powerful kingdom in the world. His calling? Ridding the world of the menace of the sirens. But when he rescues a drowning woman, it becomes clear that there's more to her than there first appeared.

She promises to help him find the key to destroying the sirens for good. But can he trust her?

Princess of Souls
For sixteen years, Selestra has been trapped in her tower on the Floating Mountain, preparing to take her mother's place as the King's Witch, who foretells deaths in the Festival of Predictions. Outrunning your fate earns a wish and the chance to steal the King's immortality. But die and your soul is forfeit. And though thousands have tried, nobody has ever beaten death.

A soldier in the King's army, Nox is an unlikely candidate for the Festival, but, driven by revenge, he is determined to steal the King's immortality and kill the entirety of his court, starting with Selestra.

Yet when Selestra touches Nox in her very first prediction, their fates become entwined, and death seeks to take both their souls. Only by working together can they survive long enough to escape the dark fate and the immortal King that now hunts them.