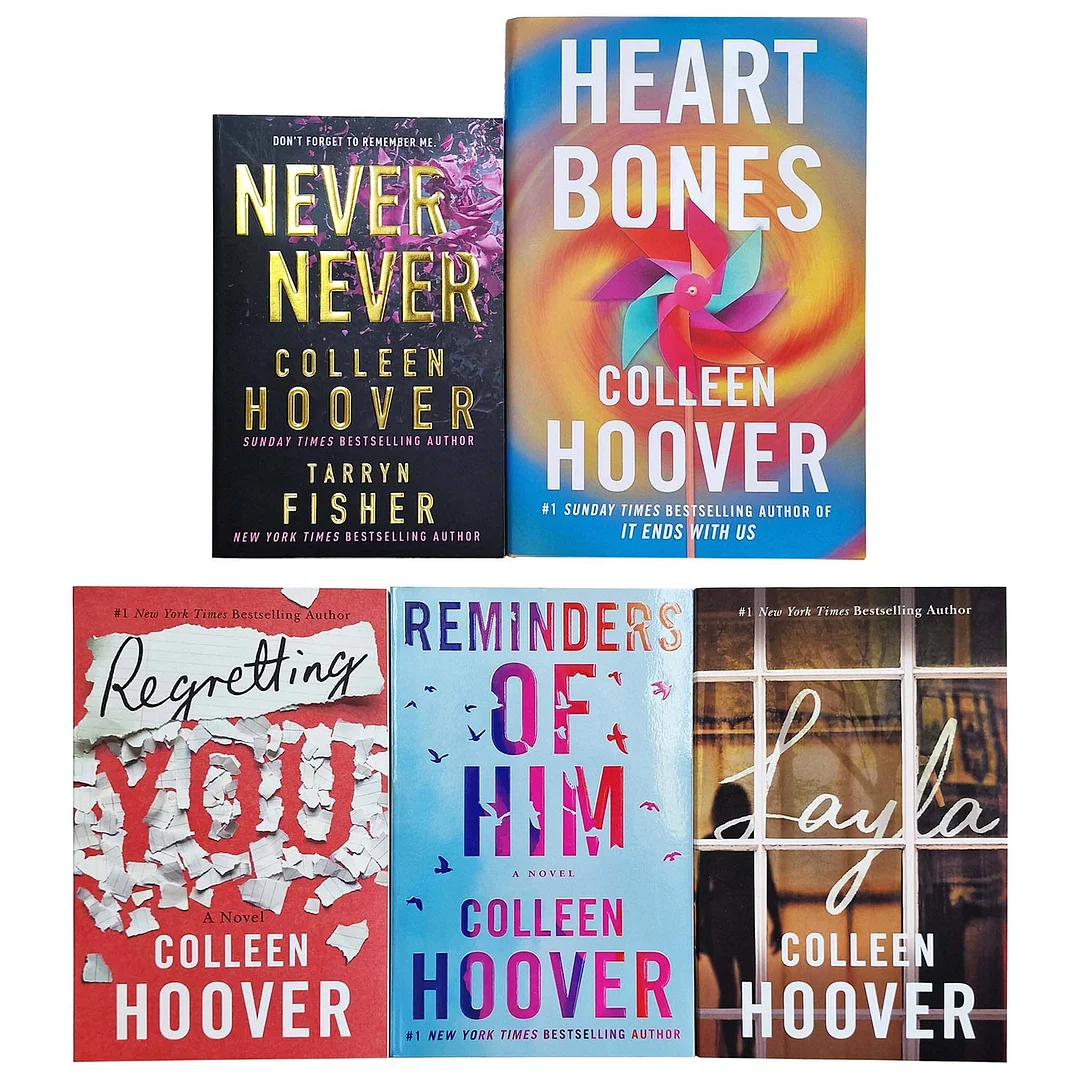 Immerse Yourself in the Emotionally-Charged World of Colleen Hoover
Prepare to have your heartstrings tugged and your emotions set ablaze as you embark on a thrilling adventure through the extraordinary collection of Colleen Hoover's spellbinding novels. With her unique ability to craft gripping stories that resonate deep within, Hoover has captured the hearts of readers worldwide. Dive into the captivating tales of Regretting You, Layla, Reminders of Him, and the mind-bending collaboration with Tarryn Fisher, Never Never. Purchase all four books in one amazingly great-value collection, now available at Books2Door. For more of Colleen Hoover's bestselling books, check out our Colleen Hoover books collection now! 
Regretting You: A Journey of Love, Loss, and Redemption
Get ready to experience a rollercoaster of emotions as Regretting You takes you on a heartfelt journey through the complexities of love, family, and the power of forgiveness. This compelling tale follows the intertwined lives of Morgan and Clara, a mother and daughter whose bond is tested when tragedy strikes. Hoover's masterful storytelling evokes raw and authentic emotions, as secrets are revealed and hearts are shattered. With each turn of the page, you'll be swept away by the palpable anguish, redemption, and undeniable power of love that lingers long after the last word is read.
 Layla: A Haunting Tale of Love, Loss, and Second Chances
Prepare to be enraptured by the hauntingly beautiful world of Layla. In this emotionally-charged novel, Hoover weaves a spellbinding story of love, loss, and the indomitable strength of the human spirit. Follow the journey of Leeds and Layla, a couple deeply in love, whose lives are forever changed when tragedy strikes. As the boundaries between reality and the supernatural blur, Hoover expertly explores themes of healing, forgiveness, and the power of self-discovery. With its atmospheric setting and heart-wrenching twists, Layla will leave you breathless and questioning the depths of your own emotions.
Reminders of Him: A Journey of Healing and Self-Discovery
Indulge in the tender and poignant tale of Reminders of Him, where Colleen Hoover navigates the complexities of grief, healing, and the transformative power of love. This emotionally-charged novel introduces you to Sydney, a young woman who finds herself at a crossroads after the unexpected loss of her husband. As she embarks on a journey of self-discovery, Hoover skillfully portrays the intricate layers of grief, resilience, and the beautiful moments that can emerge from pain. Prepare to be moved by the raw vulnerability of the characters and the uplifting message that even in the darkest of times, there is always hope.
Never Never: A Mind-Bending Collaboration
Experience the mind-bending collaboration between Colleen Hoover and Tarryn Fisher in Never Never. Brace yourself for a suspenseful and gripping journey as you follow the mysterious plight of Charlie and Silas, two teenagers who wake up with no memory of who they are or how they ended up in their current situation. As they embark on a desperate search for answers, Hoover and Fisher seamlessly blend romance, mystery, and intrigue, keeping readers on the edge of their seats until the very last page. With its unpredictable twists and turns, Never Never will leave you questioning everything you thought you knew.
Immerse yourself in the emotionally charged and intricately crafted worlds of Colleen Hoover's captivating novels. With her remarkable storytelling prowess, she has mastered the art of capturing the human experience with all its complexities and triumphs. From heart-wrenching tragedies to soul-stirring romances, Hoover's collection will ignite your imagination, leaving you breathless, moved, and forever captivated by the power of her words. Prepare to embark on an unforgettable journey through the depths of love, loss, redemption, and the indomitable strength of the human spirit.
Title in This Set:
Regretting You
Layla
Reminders of Him
Never Never
Heart Bones - Hardback
Description :
Regretting You
Morgan Grant and her sixteen-year-old daughter, Clara, would like nothing more than to be nothing alike.
Morgan is determined to prevent her daughter from making the same mistakes she did. By getting pregnant and married way too young, Morgan put her own dreams on hold. Clara doesn't want to follow in her mother's footsteps. Her predictable mother doesn't have a spontaneous bone in her body.
With warring personalities and conflicting goals, Morgan and Clara find it increasingly difficult to coexist. The only person who can bring peace to the household is Chris―Morgan's husband, Clara's father, and the family anchor. But that peace is shattered when Chris is involved in a tragic and questionable accident. The heartbreaking and long-lasting consequences will reach far beyond just Morgan and Clara.
While struggling to rebuild everything that crashed around them, Morgan finds comfort in the last person she expects to, and Clara turns to the one boy she's been forbidden to see. With each passing day, new secrets, resentment, and misunderstandings make mother and daughter fall further apart. So far apart, it might be impossible for them to ever fall back together.
Layla
When Leeds meets Layla, he's convinced he'll spend the rest of his life with her―until an unexpected attack leaves Layla fighting for her life. After weeks in the hospital, Layla recovers physically, but the emotional and mental scarring has altered the woman Leeds fell in love with. In order to put their relationship back on track, Leeds whisks Layla away to the bed-and-breakfast where they first met. Once they arrive, Layla's behavior takes a bizarre turn. And that's just one of many inexplicable occurrences.
Feeling distant from Layla, Leeds soon finds solace in Willow―another guest of the B&B with whom he forms a connection through their shared concerns. As his curiosity for Willow grows, his decision to help her find answers puts him in direct conflict with Layla's well-being. Leeds soon realizes he has to make a choice because he can't help both of them. But if he makes the wrong choice, it could be detrimental for all of them.
Reminders of Him
After serving five years in prison for a tragic mistake, Kenna Rowan returns to the town where it all went wrong, hoping to reunite with her four-year-old daughter. But the bridges Kenna burned are proving impossible to rebuild. Everyone in her daughter's life is determined to shut Kenna out, no matter how hard she works to prove herself.
The only person who hasn't closed the door on her completely is Ledger Ward, a local bar owner and one of the few remaining links to Kenna's daughter. But if anyone were to discover how Ledger is slowly becoming an important part of Kenna's life, both would risk losing the trust of everyone important to them.
The two form a connection despite the pressure surrounding them, but as their romance grows, so does the risk. Kenna must find a way to absolve the mistakes of her past in order to build a future out of hope and healing.
Never Never
Charlie Wynwood and Silas Nash have been best friends since they could walk. They've been in love since the age of fourteen. But as of this morning… they are complete strangers. Their first kiss, their first fight, the moment they fell in love… every memory has vanished.
Now Charlie and Silas must work together to uncover the truth about what happened to them and why. But the more they learn about the couple they used to be… the more they question why they were ever together, to begin with.
Forgetting is terrifying, but remembering may be worse.

Heart Bones - Hardback
Moving, passionate, and unforgettable, this novel from #1 New York Times bestselling author Colleen Hoover follows two young adults from completely different backgrounds embarking on a tentative romance, unaware of what the future holds.

After a childhood filled with poverty and neglect, Beyah Grim finally has her hard-earned ticket out of Kentucky with a full ride to Penn State. But two months before she's finally free to change her life for the better, an unexpected death leaves her homeless and forced to spend the remainder of her summer in Texas with a father she barely knows.

Devastated and anxious for the summer to go by quickly, Beyah has no time or patience for Samson, the wealthy, brooding guy next door. Yet, the connection between them is too intense to ignore. But with their upcoming futures sending them to opposite ends of the country, the two decide to maintain only a casual summer fling. Too bad neither has any idea that a rip current is about to drag both their hearts out to sea.