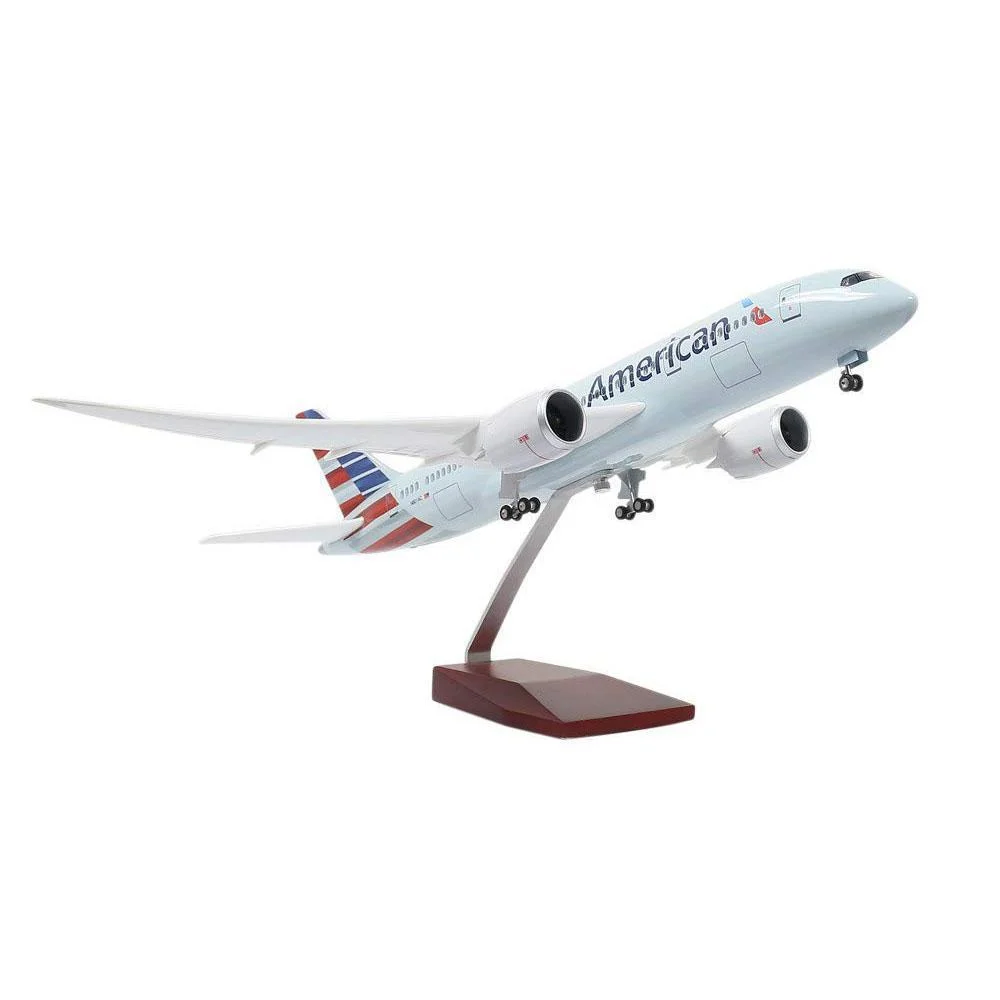 ${data.index + 1}/15
1:130 American Airlines Boeing 787 Airplane Model
This is a large-sized high-quality airplane model that can be controlled by voice or touch switches.
Automatically turn on the large model aircraft, at midnight, your door opening sound or footsteps will make it brighten, fully demonstrated its charm in the dark, and its automatic extinguishing function will not be too power-consuming. The package which sent to you will contain a USB charging cable suitable for this model. It can be connected to the computer's USB port, or the charging plug, it's very convenient. The fuselage length is 16.93 inch, width (distance between the top of the two wings) is 18.5 inch, height (base to the roof) is 7.48 inch.This attractive large-scale airplane model is suitable for festivals gift and most people, such as friends, family, lovers, and business partners and so on.

 About this item
LED——The LED lights will be brighten when you make some voice or touch it, very charming, and it will automatically extinguish after 20 seconds, USB charging
Size——16.93 inch length and 18.5 inch width large size aircraft model, super conspicuous and suitable for Large space decorate
Material—— High quality resin body , wooden trapezoidal base and metal bracket, stable and can hold the aircraft very well
Applicable—— It can be used as an office, home or shop decorate, and a great business gift ,birthday gift, festival gift
Exquisite packaging——We will package it with a beautiful and well-protected model box


Item Specification:
Model size: 16.93*18.50*7.48 inch (43*47*19 cm)
Package size: 23.6*7.9*4.3 inch (60*20*11 cm)
Weight: Approx 1.8kg


Package Include:
Aircraft*1
Base*1
USB charging cable*1
1:200 American Airlines B787-9 N839AA Airplane Model
American Airlines is the world's largest airline in terms of passenger capacity, total passenger mileage and fleet size. It is headquartered in Fort Worth, Texas, USA.
Specification:
Airline: American Airlines
Aircraft: Boeing 787-9
Ratio: 1:200
Size: 12.40*11.57*3.33 inch (31.50*29.40*8.45 cm)
Material: Diecast
Weight: Approx 1.8kg

Features:
1. Using a new generation of technology, the dust-free spray paint case has no graininess.
2. The painting color is full, and the paint will not fall off for a long time.
3. The details of the fuselage and wing are made with high imitation of real machine, and the overall workmanship is exquisite.
4. For products with wheels, the wheels can be rolled and the front wheels can be steered.
5. It is suitable for furniture decoration, personal collection, aviation gifts, and is a good product for collection and gifts.

Packing List:
1*Aircraft Model
1*Bracket
Our Ethics:
Alterll Complies With All Laws In The Areas Where We Operate.
Alterll Conducts Our Business With Integrity, Sincerity, Honesty And Transparency.
Alterll Is Committed To Protecting The Industry And Our Customers From Fraud, Misrepresentation And Unethical Business Practices.
Alterll Has Developed An Anti-money Laundering Plan To Fully Comply With The Law.
Alterll Fully And Accurately Describes The Material Characteristics Of The Products And Commodities We Sell.
Alterll Takes All Necessary Measures To Ensure The Safe Transportation Of All Our Products.
Alterll Respects The Confidentiality Of The Trade Secrets And Data Of Our Employees, Our Business Partners And Our Customers.
Whether As An Individual Or As An Alterll Company, Alterll Strives To Continuously Improve Our Professionalism And Expertise.

Any questions, please tell us: alterllairplane@gmail.com