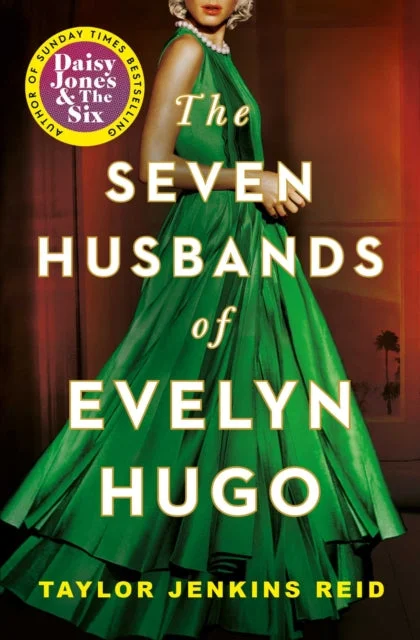 The Seven Husbands of Evelyn Hugo: A Captivating Journey through Love, Secrets, and Glamour
Immerse yourself in the mesmerising world of Hollywood's golden age with The Seven Husbands of Evelyn Hugo by bestselling author Taylor Jenkins Reid. This compelling novel takes readers on a breathtaking journey through the life of the enigmatic and iconic Evelyn Hugo, a legendary actress who captivated the hearts of millions. With its spellbinding narrative and richly drawn characters, this book is a must-read for anyone seeking a tantalising blend of love, ambition, and untold secrets. Purchase the hit BookTok sensation, now available at Books2Door. 
Within the pages of The Seven Husbands of Evelyn Hugo, Taylor Jenkins Reid presents a cast of unforgettable characters. Evelyn Hugo herself is a complex and fiercely determined woman who navigates the intricate web of fame and love. From her early struggles as a Cuban immigrant to her meteoric rise to stardom, readers are drawn into the deeply personal experiences of each of Evelyn's seven marriages. With every husband, the novel delves into the nuances of their relationships, unveiling layers of emotion, heartbreak, and personal growth. Published in 2017, the book follows the life story of Evelyn Hugo, a fictional ageing Hollywood icon who rose to fame in the 1950s and '60s. Through a series of interviews with an aspiring journalist named Monique Grant, Evelyn reveals her scandalous and captivating life, including her seven marriages and the price she paid for fame. The book offers an intimate look behind the scenes, exposing the industry's machinations, power dynamics, and the challenges faced by women in a male-dominated world.
The novel explores various themes such as love, ambition, identity, sexuality, and the sacrifices people make in pursuit of their dreams. It delves into the complex and often contradictory nature of relationships and the compromises individuals may make to achieve success.
Jenkins Reid expertly transports readers to the dazzling world of Hollywood's heyday. With vivid descriptions and meticulous attention to detail, she paints a captivating backdrop of glamour, ambition, and the allure of fame. From the bustling movie sets to the opulent parties, readers are swept up in the excitement and intrigue that defined the golden era of cinema. As Evelyn Hugo's life unfolds against this glamorous backdrop, the novel offers a rare glimpse into the price of success, the sacrifices made, and the intricate relationships that exist behind closed doors.
At the core of The Seven Husbands of Evelyn Hugo lies a compelling exploration of love, secrets, and betrayal. Through each marriage, Jenkins Reid masterfully examines the complexity of human relationships and the often-hidden motives that shape them. The novel explores themes of self-discovery, identity, and the lengths people will go to protect the ones they love. As the layers of Evelyn's life are peeled away, readers are gripped by the intrigue, shocking revelations, and unexpected twists that keep them engrossed until the very last page.
Evelyn Hugo emerges as a powerful and resilient female protagonist, defying the limitations society imposes on women. Her ambition, determination, and unapologetic pursuit of happiness make her a captivating and inspiring figure. Jenkins Reid masterfully crafts Evelyn's character, showcasing her strength in a male-dominated industry and highlighting the choices she makes to assert her independence. In Evelyn's story, readers find a reminder of the importance of staying true to oneself, even in the face of adversity.
The Seven Husbands of Evelyn Hugo transcends its historical setting and offers timeless themes that resonate with readers today. From love and loss to the pursuit of dreams and the exploration of personal identity, the novel delves into universal human experiences. Jenkins Reid's emotionally charged prose invites readers to reflect on their own lives, relationships, and the choices they make. The book's exploration of the complexities of fame and the price of success makes it a thought-provoking and deeply satisfying read.
The Seven Husbands of Evelyn Hugo is a mesmerising tale that combines compelling storytelling, memorable characters, and an evocative portrayal of Hollywood's golden age. Taylor Jenkins Reid weaves a narrative that will transport readers to another time, immersing them in the glitz, glamour, and secret lives of the rich and famous. This book is a testament to the enduring power of love, the strength of the human spirit, and the resilience of those who dare to defy societal expectations. Prepare to be enthralled by Evelyn Hugo's captivating journey through love, secrets, and self-discovery. 
Want more from Taylor Jenkins Reid? Check out the Daisy Jones and the Six by Taylor Jenkins Reid 5 Books Collection Set now available in stock at Books2Door.  
About the Author: 
Taylor Jenkins Reid is an American author known for her contemporary fiction novels, particularly in the genre of women's fiction. She was born on March 23, 1983, in Massachusetts, United States. She attended Emerson College in Boston, where she received a Bachelor of Fine Arts in Acting. After graduation, she pursued a career in acting for several years before transitioning to writing.
However, it was her third novel, The Seven Husbands of Evelyn Hugo, published in 2017, that propelled Taylor Jenkins Reid to widespread recognition and success. The book tells the fictionalised story of an ageing Hollywood icon named Evelyn Hugo, who recounts her scandalous life and marriage to a struggling journalist. This novel received immense praise from readers and critics alike for its compelling characters, intricate plot, and exploration of complex themes such as love, fame, and identity.
More Like This:
If you liked this book, why not check out other works by bestselling author Colleen Hoover? Colleen Hoover is a bestselling American author known for her emotionally charged and compelling contemporary romance novels. Colleen Hoover's novels often tackle thought-provoking themes and feature relatable characters that resonate with readers. Her writing style evokes strong emotions and keeps readers engrossed in the stories she weaves. Whether you're seeking heartfelt romance or stories that delve into deeper issues, Colleen Hoover's books provide engaging and satisfying reads.